View all Events
San Francisco Hackathon
475 participants from 26 countries around the world competed to build applications on EOSIO that better aligned interests among stakeholders to drive value back to end users.
Duration:

2 days

Location:

The Village, San Francisco, United States
The challenge
Blockchain technology has enabled a social movement showing potential to rewrite existing business models and governance – and even shake up the status quo of the tech giants of today. 
Like EOS, these new blockchain based business models can gain fundamental competitive advantage by aligning users, shareholders, and other stakeholders.
The Challenge: Build an EOSIO application that fosters a fundamental competitive advantage by implementing a business model that aligns interests amongst stakeholders and/or drives more value back to users.
Winners
NouGit
Incentivizing collaboration on a decentralized Git Repository
Pollinate
Facilitating last-mile delivery by incentivising anyone within a city to pick up and deliver packages
Six Degrees
Unlocking the value of one's network via bounties
EOSHive
Leverage the crowd to build EOS dapps
Build on Change. Build on EOSIO. #eoshackathon
San Francisco #EOSHackathon Recap Video
Judges
Dan Larimer
Block.One
CTO
Rob Jesudason
Block.One
Group President
Mike Novogratz
Galaxy Digital
Founder & CEO
Mike Lempres
Coinbase
Chief Policy Officer
Margot Edelman
Edelman
Vice President
Philip Rosedale
High Fidelity
Founder & CEO
Brad Stephens
Blockchain Capital
Co-Founder
Maxim Wheatley
Bitmex
Head of Venture Development
close
Dan Larimer
Block.One
CTO
Dan is one of the leading innovators, engineers and thought leaders in the blockchain space. He is the co-founder of an array of successful blockchain companies, most notably the decentralized exchange BitShares, the social media network Steemit, and Block.one, publisher of the EOSIO protocol, all of which provide industrial- and enterprise-grade blockchain solutions utilizing the widely-adopted Delegated Proof of Stake (DPOS) consensus mechanism, which he invented. Recognized as an industry pioneer, Dan is one of the most high-profile figures in the blockchain arena, having garnered a decade's worth of entrepreneurial and technical experience in the field. At Block.one, he is the lead architect behind the EOSIO software, which is engineered to run highly scalable blockchain applications. He is an alumnus of the Virginia Tech Department of Computer Science, where he currently serves as a guest lecturer and curriculum advisor.
close
Rob Jesudason
Block.One
Group President
Rob is a member of Block.one's Board of Directors and is responsible for group global operations. Prior to joining Block.one, he worked at Commonwealth Bank of Australia (ASX: CBA), a global top-12 bank by market capitalization (A$125 billion) for six and a half years, most recently as its Chief Financial Officer. Before CBA, Jesudason worked at Credit Suisse as Head of Global Emerging Markets for its Financial Institutions Group. Earlier in his career, he held positions at JPMorgan, Barclays, GE Capital and McKinsey & Company.
close
Mike Novogratz
Galaxy Digital
Founder & CEO
Michael Novogratz is the Founder and CEO of Galaxy Digital.  He was formerly a Partner and President of Fortress Investment Group LLC.  Prior to Fortress, Mr. Novogratz spent 11 years at Goldman Sachs, where he was elected Partner in 1998.  Mr. Novogratz served on the New York Federal Reserve's Investment Advisory Committee on Financial Markets from 2012 – 2015.  Mr. Novogratz serves as the Chairman of The Bail Project and has made criminal justice reform a focus of his family's foundation.  He also serves as the Chairman of Hudson River Park Friends, and sits on the boards of NYU Langone Medical Center, the Princeton Varsity Club, Jazz Foundation of America, and Artists for Peace and Justice.  Mr. Novogratz received an AB in Economics from Princeton University, and served as a helicopter pilot in the US Army.
close
Mike Lempres
Coinbase
Chief Policy Officer
Mike is Chief Policy Officer at Coinbase, the nation's leading digital currency company. Coinbase provides exchange and wallet services to enable consumers and investors to access digital currencies such as Bitcoin, Litecoin and Ethereum. Mike works to ensure that state, local, federal and international policymakers create a legal and regulatory ecosystem that enables digital currencies to grow and operate in a safe, trusted way. From 2017-2018, Mike served as Coinbase's Chief Legal & Risk Officer when he led the legal, compliance, risk, corporate secretary and government affairs teams.
In addition, Mike serves on the Boards of all Coinbase subsidiary companies. Mike serves on the City Council of Atherton, California. He was elected in 2014 and served as Mayor in 2016-2017. Atherton is a residential community in the heart of Silicon Valley. The Mayor and Council oversee the town's government, including the Police Department and other city functions. Mike has worked extensively in both the public and private sectors. He has been appointed by three Presidential administrations to senior government positions and has worked closely on a daily basis with two Attorneys General. He was selected as a White House Fellow, and has served as a Deputy Associate Attorney General and Executive Commissioner of the Immigration and Naturalization Service. He also served as Vice President of the U.S. Overseas Private Investment Corporation, an independent agency intended to encourage U.S. investment and economic growth in developing nations. Mike graduated from Dartmouth College and the Boalt Hall School of Law at the University of California, Berkeley.
close
Margot Edelman
Edelman
Vice President
Margot Edelman leads Edelman's Emerging Technology offer in the US and is based in San Francisco; passionate about all things tech, Margot advises executives and business leaders on communications and her clients range from tech companies to venture capital firms to well-known individuals.
Partnering with Edelman's more than 700 Edelman technology specialists in 48 markets around the globe, Margot brings a wealth of experience in brand building, corporate reputation and executive visibility to her clients large and small. Margot also leads a monthly "get to know the media" speaker series, with top reporters from The FT, The New York Times, Forbes and other top publications.
Margot has worked for seven years on the press team at the World Economic Forum during its Annual Meeting in Davos, Switzerland, where she led broadcast media from Reuters, Bloomberg, Associated Press and others around the Forum and arranged broadcast interviews with participants. Margot is a graduate of Harvard Business School and Harvard University, where she was a writer for The Harvard Crimson.
close
Philip Rosedale
High Fidelity
Founder & CEO
Prior to High Fidelity, Rosedale created the virtual civilization Second Life, populated by one million active users generating US$700M in annual transaction volumes. In addition to numerous technology inventions (including the video conferencing product called FreeVue, acquired by RealNetworks in 1996 where Rosedale later served as CTO), Rosedale has also worked on experiments in distributed work and computing.
close
Brad Stephens
Blockchain Capital
Co-Founder
Brad Stephens is Co-founder and Managing Partner of Blockchain Capital, the pioneer and premier venture capital firm focused exclusively on the blockchain technology sector and crypto ecosystem. Blockchain Capital was the first to raise a venture fund through an ICO, creating the world's first security token, the BCAP. We have financed over 72 companies and protocols since our founding in early 2013.
close
Maxim Wheatley
Bitmex
Head of Venture Development
Maxim is an award-winning innovator and entrepreneur. Maxim leads seed-stage and emerging-markets investment strategy for BitMEX, the world's largest crypto derivatives exchange. Previously he has been honored as one of the youngest winners of the CES Innovation award, and in the Washington DC Venture Capital community. He is a prolific inventor with over 20 patents, both issued and pending.
Previously, he was the founding Chief Product Officer of LifeFuels, recently a strategic investment of Keurig Green Mountain. Prior to that he was an Associate Producer for the globally screened "Startupland." Maxim is an Entrepreneur in Residence at Georgetown University's business school, and sits on the boards of several growing startups.
Top Prize awarded to NouGit at EOS Global Hackathon 2018 San Francisco
Press Release - 21 Nov, 2018
Album
Scroll through the gallery for event highlights.
Past hackathons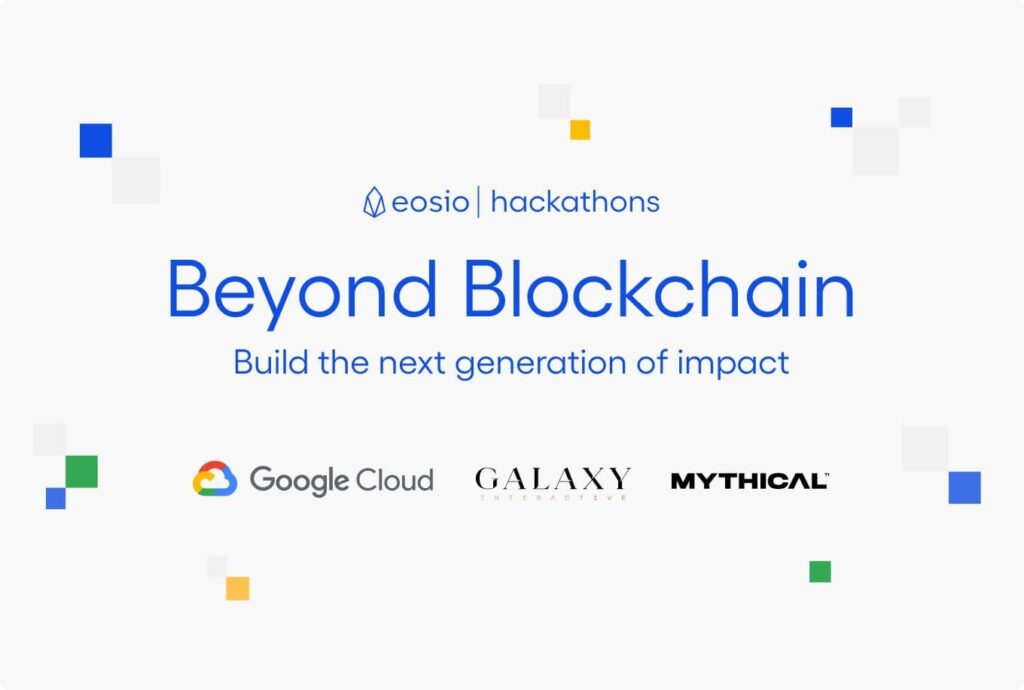 Beyond Blockchain
Hosted in partnership with Google Cloud, Galaxy Interactive, and Mythical Games, the 2021 #EOSIOHackathon saw 1,315 participants from 107 countries compete to build the next wave of innovation through the power of blockchain and Google Cloud.
Date:

-

Location:

Virtual
Coding for Change
900 participants from 92 countries attended Coding for Change using blockchain technology to address the problems and/or expected societal changes related to the COVID-19 pandemic.
Date:

-

Location:

Virtual
Be the first to find out about the next hackathon.
Project Submission form:
Send us a link to your project, for consideration in our voting slate. No confidential submissions will be accepted and, depending on how many submissions we receive, we can't guarantee when or if we'll get to review each submission.
Block Producer form:Stake-based Voting & Rewards Proposal
Send us a link to your public feedback, and we'll consider voting for you.
Subscribe for EOSIO event updates
Subscribe for hackathon updates