View all Events
Coding for Change
900 participants from 92 countries attended Coding for Change using blockchain technology to address the problems and/or expected societal changes related to the COVID-19 pandemic.
The challenge
Apply blockchain technology to help address the problems and expected societal changes related to the COVID-19 pandemic.
Lifebank
Lifebank helps local communities create a virtuous circle of value exchange between three parties — an eligible blood donor, a donation center, and a sponsor.
Read the press release
Submissions
BackTogether
COVID-19 Passport - Provides COVID-19 and antibody test status
AiRFace.it App
A customizable, economic, and ecological mask tailored to you.
Auream
Bringing transparency to the medical supply chain.
COVID-19 Immunity Passport
Securely request, issue, and present proof-of-immunity against COVID-19.
CryptoBartender
Helping people social distance through contactless drink sales and income distribution.
Distributed Marketplace
A distributed marketplace to enable local trading in any currency.
eosform
Create surveys and gather responses, stored on the EOS blockchain.
EOSIO Public Health Authority
Decentralized contact tracing through bluetooth and EOSIO blockchain.
Fabblink
Connecting additive manufacturing stakeholders for secure and reliable automation.
Gift Card
Supporting businesses through transparent and accountable gift cards.
JIN Network
A transparent financial infrastructure for EOS that includes a bank, exchange, and price oracle.
Kyros Certificates Hub
Democratizing authority with easy and verifiable blockchain-based certificates.
MediShares MutualDAO
Enabling mutual aid organizations to manage risk and reduce costs.
mochi
A donation platform to verify participants and ensure contributions are put to good use.
mroo
A decentralized micro-university connecting businesses, teachers, and students.
myChainOmics
Secure enrollment, streamlined consent, and fair compensation for clinical trials.
Piña
A modern digital directory of local businesses and services.
Qure
An economic virtual meet-up community and decentralized donation network.
Smart Care
Blockchain and AI to automate safe testing for COVID-19 and influenza.
stimulus-integrity
Using blockchain to enhance integrity within stimulus relief.
Trendie
Creating an art-based economy to empower learning, collaboration, and contributions.
TRUEos – True Open Synthesis
An accessible knowledge service supply chain to encourage better thinking and greater understanding.
Universal Creative Income
A resilient and decentralized infrastructure for the digitalization and funding of creativity.
Utudy
Enabling one-on-one teaching for students and instructors, certified on blockchain.
Worksout – Automated Jobs ecosystem
Bridging the gap between job seekers and employers through stronger management and automation.
Past hackathons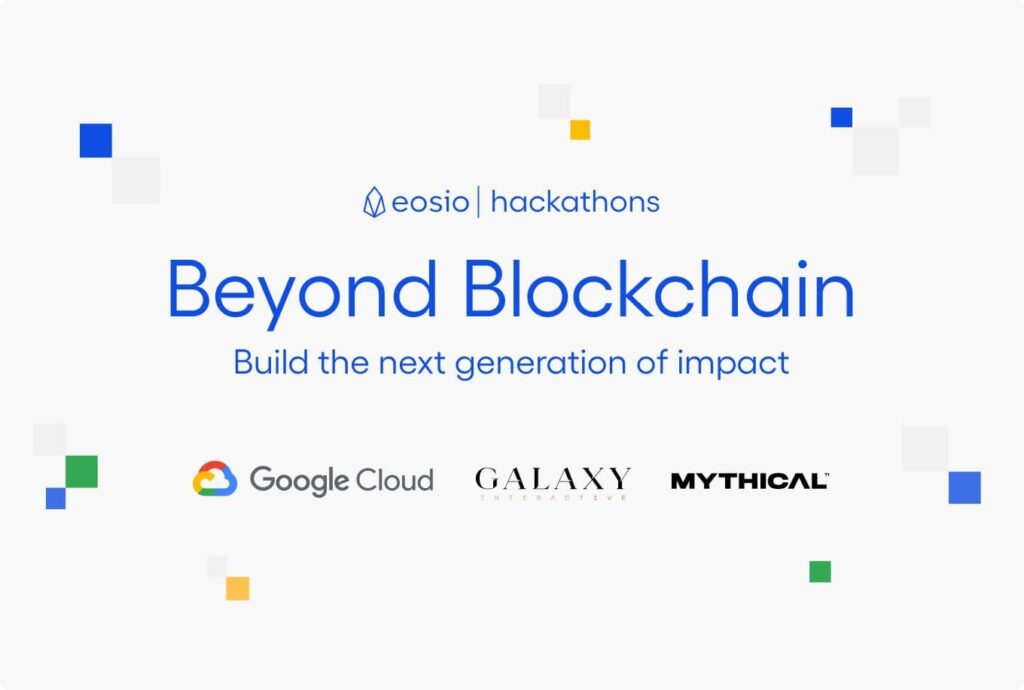 Beyond Blockchain
Hosted in partnership with Google Cloud, Galaxy Interactive, and Mythical Games, the 2021 #EOSIOHackathon saw 1,315 participants from 107 countries compete to build the next wave of innovation through the power of blockchain and Google Cloud.
Date:

-

Location:

Virtual
Cape Town Hackathon Finale
The Grand Finale was a culmination of the winners at each of the prior hackathons in the series for an intensive incubation week and demo day where #EOSHackathon finalists showcased their blockchain-based businesses, and competed for the grand prize of US$500,000.
Date:

Location:

CTICC, Cape Town, South Africa
Be the first to find out about the next hackathon.
Project Submission form:
Send us a link to your project, for consideration in our voting slate. No confidential submissions will be accepted and, depending on how many submissions we receive, we can't guarantee when or if we'll get to review each submission.
Block Producer form:Stake-based Voting & Rewards Proposal
Send us a link to your public feedback, and we'll consider voting for you.
Subscribe for EOSIO event updates
Subscribe for hackathon updates