View all Events
Sydney Hackathon
More than 50 teams and 200 entrants from around the world competed to "Hack the Outback" building DAPPs on the EOSIO Platform that addressed environmental issues.
Duration:

2 days

Location:

ICC, Sydney, Australia
The challenge
Hack the Outback – Australia is one of the largest countries in the world, its ocean territory is the third largest, and more than 91% of its landmass is covered by native vegetation. Blockchain technology enables the creation of scalable applications that can trace and measure transactions and reward individuals for environmental preservation activities. The Challenge: Create a DAPP on the EOSIO platform that will empower the public to play a role in sustaining natural environments for the future.
Winners
SmartPress
A DAPP that enables environmentally-motivated individuals to build smart contracts for land preservation - all without writing a single line of code
GreenKeep
A DAPP that allows farmers, suppliers and consumers to record, decentralize, and verify the provenance of food produce
TokenTree
A DAPP that empowers individuals to plant and grow trees in exchange for tokens
GreenFix
A DAPP that incentivizes the packaging industry to adopt more sustainable industrial activities and discourage non-sustainable activities through a token based incentive model
BUILD ON CHANGE. BUILD ON EOSIO. #EOSHACKATHON
Sydney #EOSHackathon Recap Video
Judges
Rob Jesudason
Block.One
Group President
Andrew Bliss
Block.One
CFO
Lina Lim
NSX Limited, Tempus Adventus
Head of Technology, Managing Director
Jonny Hendriksen
Shuttlerock
Founder & CEO
Dr. Jane Thomason
Blockchain Quantum Impact
CEO
Joe Cincotta
Thinking Studio
Managing Director
Reece Proudfoot
WWF-Australia
Innovation Strategist
close
Rob Jesudason
Block.One
Group President
Rob is a member of Block.one's Board of Directors and is responsible for group global operations. Prior to joining Block.one, he worked at Commonwealth Bank of Australia (ASX: CBA), a global top-12 bank by market capitalization (A$125 billion) for six and a half years, most recently as its Chief Financial Officer. Before CBA, Jesudason worked at Credit Suisse as Head of Global Emerging Markets for its Financial Institutions Group. Earlier in his career, he held positions at JPMorgan, Barclays, GE Capital and McKinsey & Company.
close
Andrew Bliss
Block.One
CFO
Andrew is a financial professional, investor and entrepreneur and has served as the Chief Financial Officer of Block.one since its inception. Prior to joining Block.one, Andrew held several financial and accounting positions with global avionics and technology multinational Rockwell Collins, where he worked for just under a decade. Andrew holds a Bachelor of Business Administration and an MBA from the University of Iowa.
close
Lina Lim
NSX Limited, Tempus Adventus
Head of Technology, Managing Director
Lina Lim is the Head of Technology at the National Stock Exchange of Australia (NSX), where she is responsible for the strategic direction on innovative product and technology adoption for the business. Recognised by CIO50 Australia 2017 as a rising star, Lina was included on the CIO50 Ones to Watch list. She also is the Managing Director & Co-founder of Tempus Adventus, a start-up company that focuses on promoting and delivering blockchain and Distributed Ledger Technologies in the financial market and services industry. She is actively involved in blockchain for social impact, fintech, and promoting women in financial technology and impact investing space as her deep passions. Lina is also one of the founding Directors of Blockchain Philanthropy Foundation (BPF), a not for profit organisation with purpose statement is to enable and accelerate humanitarian and social good projects and initiatives worldwide, through blockchain technology. BPF is committed to be the catalyst of change for the world by providing thought leadership in Blockchain for Philanthropy and social good space, connecting NFPs, corporates, governments, philanthropists and blockchain community together to build a better future.
close
Jonny Hendriksen
Shuttlerock
Founder & CEO
Jonny is a seasoned entrepreneur, with more than 20 years of experience within the ever-changing digital marketing scene. He has had a pioneering impact within the Japanese market in particular, where he founded and listed ValueClick Japan on the Tokyo Stock Exchange with a monthly reach of 40 million users. Jonny is the first foreigner to list a company on the Tokyo Stock Exchange. In addition to personally investing in multiple tech startups, Jonny founded Shuttlerock, the global leader in content and ad creative solutions in 2011.  Shuttlerock are close to releasing an exciting blockchain project that will transform creative industries.
close
Dr. Jane Thomason
Blockchain Quantum Impact
CEO
Dr Jane Thomason is a thought leader, and a frequent global commentator, speaker and blogger on the application of blockchain technology for social impact. In 2017, she published peer-reviewed articles  on: blockchain, climate finance and the poor; and on blockchain as an accelerator for women's and children's health. Jane is an adviser to several blockchain startups with applications that solve global problems, and is currently working with collaborators to co-develop blockchain POCs in several emerging economies. She was a hackathon judge and mentor at London Blockchain Week, London Fintech Week and the Consensys Blockchain for Social Impact Coalition Hackathon. She is an advocate for the education and empowerment of women generally and #WomeninBlockchain. Dr Thomason is a Global Ambassador and  Advisory Board member of the British Blockchain Association, and was awarded the Global Quantum Impact Champion Award at the launch of the UN Decade of Women, where she was also named on Top 10 Digital Frontier Women list.
close
Joe Cincotta
Thinking Studio
Managing Director
Joe Cincotta is the Founder and Managing Director of Thinking.Studio, a digital consultancy for financial services and insurance, based in Sydney, Australia. Since founding Thinking.Studio in 2003, Joe and his team have crafted digital experiences, code and patents for multiple start-up ventures in the UK, US and Australia, while also innovating with large corporate and government clients like Intel, P&G, Tourism Australia, Sydney Opera House Trust, Macquarie Bank, Westpac Group, Steadfast Insurance Group and Endeavour Energy.
close
Reece Proudfoot
WWF-Australia
Innovation Strategist
Reece Proudfoot is Innovation Strategist at WWF-Australia. In 2017, Reece founded WWF-Australia's sustainable technology accelerator: Panda Labs, with a mission to develop, support and scale innovative, global solutions for the Sustainable Development Goals. Panda Labs supports both social enterprise start-ups and corporate ventures and is currently incubating two blockchain venture partnerships. In 2017, Reece authored the report "Can Technology Save the Planet?" and developed the WWF global network's global blockchain strategy. Reece currently chairs the WWF global blockchain working group.
Reece's career began in advertising at News Limited in Sydney before making a significant pivot to work for two years in the Kingdom of Tonga – on capacity building and climate change adaptation with the Tongan business sector. Reece joined WWF in 2012, working on climate change campaigns, including Earth Hour, which engages hundreds of millions of ordinary people on sustainability, climate change, and energy every year. Reece now has over fifteen years experience in innovation strategy and capacity building, campaigning, and coalition building. Reece has a Masters Degree in International Social Development from the University of New South Wales, and is especially motivated by building public participation in problem solving and solution design.
Australians compete to win Top Prize at EOS Global Hackathon Sydney
Album
Scroll through the gallery for event highlights.
Past hackathons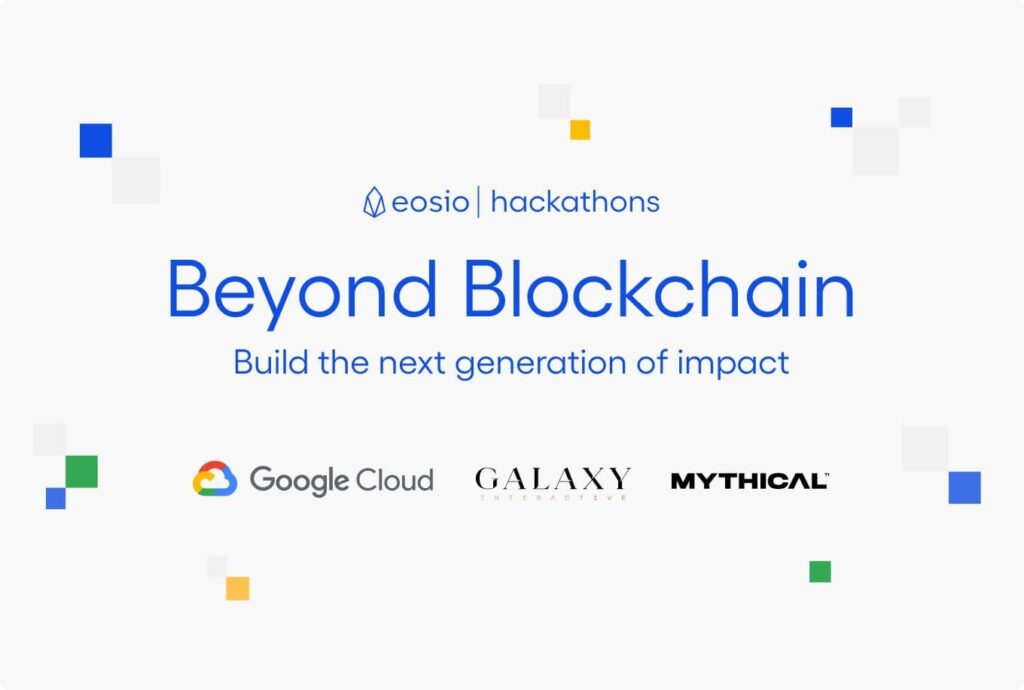 Beyond Blockchain
Hosted in partnership with Google Cloud, Galaxy Interactive, and Mythical Games, the 2021 #EOSIOHackathon saw 1,315 participants from 107 countries compete to build the next wave of innovation through the power of blockchain and Google Cloud.
Date:

-

Location:

Virtual
Coding for Change
900 participants from 92 countries attended Coding for Change using blockchain technology to address the problems and/or expected societal changes related to the COVID-19 pandemic.
Date:

-

Location:

Virtual
Be the first to find out about the next hackathon.
Project Submission form:
Send us a link to your project, for consideration in our voting slate. No confidential submissions will be accepted and, depending on how many submissions we receive, we can't guarantee when or if we'll get to review each submission.
Block Producer form:Stake-based Voting & Rewards Proposal
Send us a link to your public feedback, and we'll consider voting for you.
Subscribe for EOSIO event updates
Subscribe for hackathon updates