View all Events
Hong Kong Hackathon
90 teams and more than 350 entrants from 17 countries competed to build scalable blockchain DAPPs on the EOSIO Platform.
Duration:

2 days

Location:

Kai Tak Cruise Terminal, Hong Kong
The challenge
Decentralized Applications for Scale – The EOSIO platform ushers in an era of scalable decentralized applications built to impact technology across the globe. The Challenge: identify a centralized business model and create a decentralized alternative that is built for large-scale mainstream adoption.
The Winners
IDPass
Self-sovereign identity for global citizens with no formal documentation
Blockflare
Decentralized
Anti-DDoS Protection
Ducatur
Crosschain trustless Decentralized Exchange with the speed of Centralized Exchanges
WarrantEase
Easy, secure product warranty
registration and claims
EOS Global Hackathon Hong Kong Recap
Catch all the highlights from the EOS Hackathon Hong Kong event in this video – and keep an eye out for the next hackathon in Sydney.
Judges
Andrew Bliss
Block.One
CFO
Larry Sanger
Everipedia, Wikipedia
CIO
Dr. Jane Thomason
Blockchain Quantum Impact
CEO
Sam Kazemian
Everipedia
Co-Founder & President
Theodor Forselius
Everipedia
Co-Founder & CEO
Eric Kuhn
T-Mobile Home and Entertainment
Head of Communications
close
Andrew Bliss
Block.One
CFO
Andrew is a financial professional, investor and entrepreneur and has served as the Chief Financial Officer of Block.one since its inception. Prior to joining Block.one, Andrew held several financial and accounting positions with global avionics and technology multinational Rockwell Collins, where he worked for just under a decade. Andrew holds a Bachelor of Business Administration and an MBA from the University of Iowa.
close
Larry Sanger
Everipedia, Wikipedia
CIO
Larry Sanger is an American Internet project developer and is best known as co-founder of Wikipedia. He is now Chief Information Officer for Everipedia​, responsible for planning a new encyclopedia​ blockchain​ network. He has been involved with various online encyclopedia and educational projects. He is the former editor-in-chief of Nupedia, chief organizer (2001–02) of its successor, Wikipedia, and founding editor-in-chief of Citizendium. At Nupedia, Sanger assembled a process for article development. He proposed implementing a wiki, which led directly to the creation of Wikipedia, and led the project's community as for its first 14 months and established many of its original policies.
close
Dr. Jane Thomason
Blockchain Quantum Impact
CEO
Dr Jane Thomason is a thought leader, and a frequent global commentator, speaker and blogger on the application of blockchain technology for social impact. In 2017, she published peer-reviewed articles  on: blockchain, climate finance and the poor; and on blockchain as an accelerator for women's and children's health. Jane is an adviser to several blockchain startups with applications that solve global problems, and is currently working with collaborators to co-develop blockchain POCs in several emerging economies. She was a hackathon judge and mentor at London Blockchain Week, London Fintech Week and the Consensys Blockchain for Social Impact Coalition Hackathon. She is an advocate for the education and empowerment of women generally and #WomeninBlockchain. Dr Thomason is a Global Ambassador and  Advisory Board member of the British Blockchain Association, and was awarded the Global Quantum Impact Champion Award at the launch of the UN Decade of Women, where she was also named on Top 10 Digital Frontier Women list.
close
Sam Kazemian
Everipedia
Co-Founder & President
Sam Kazemian is an Iranian-American​ software engineer who co-founded Everipedia, a decentralized, blockchain-based version of Wikipedia, in 2015. Sam graduated from UCLA the same year, double majoring in Neuroscience and Philosophy. During his tenure as a UCLA student, he put together a homemade CPU+GPU mining rig using old desktop computers in his dorm to mine cryptocurrencies in 2014.
close
Theodor Forselius
Everipedia
Co-Founder & CEO
Theodor Mauritz Forselius, known as "Tedde," is a Swedish Internet entrepreneur and programmer who co-founded Everipedia in 2015 with Sam Kazemian. Prior to working on Everipedia, he was the creator of several online gaming projects and companies, including the social gaming network "HELLO" and the MOBA-game focused community website Mobafy. Theodor also worked as a web developer at the advertising agency NOGA, in Sweden, from 2011-2014.
close
Eric Kuhn
T-Mobile Home and Entertainment
Head of Communications
Eric Kuhn is a successful entrepreneur sitting at the intersection of media, entertainment and technology. He helped start and run Layer3 TV, a next generation cable provider that was recently sold to T-Mobile, where he is now part of their Home & Entertainment division. Previously Eric was Hollywood's first "social media agent" at United Talent Agency, where he represented some of the industry's top writers, directors, actors and producers with regard to investments, digital strategy and social media. In 2009, Eric became CNN's Audience Interaction Producer, running social media and producing some of the first television programs that integrated digital platforms. He also is responsible for launching the National Basketball Association and CBS News on social media. Eric is an advisor to numerous startups in the media and entertainment space, including TrackMaven, Happy Not Perfect, Niche (acquired by Twitter) and This Technology (acquired by Comcast).
Block.one Launches EOS Global Hackathon Series in Hong Kong
Press Release - 10 Jun, 2018
Album
Scroll through the gallery for event highlights.
Past hackathons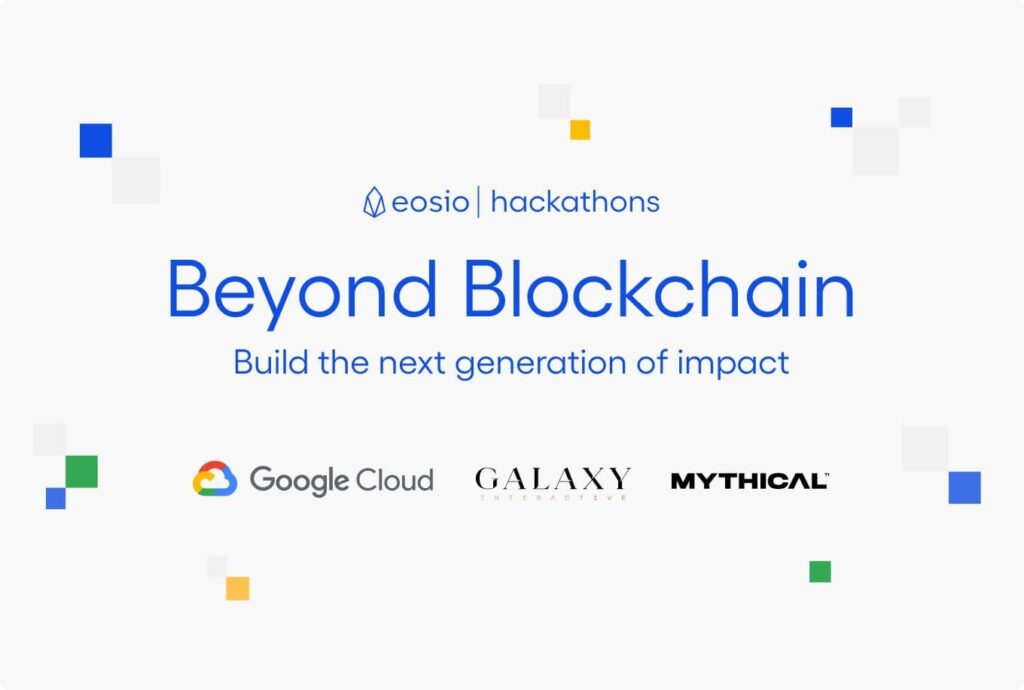 Beyond Blockchain
Hosted in partnership with Google Cloud, Galaxy Interactive, and Mythical Games, the 2021 #EOSIOHackathon saw 1,315 participants from 107 countries compete to build the next wave of innovation through the power of blockchain and Google Cloud.
Date:

-

Location:

Virtual
Coding for Change
900 participants from 92 countries attended Coding for Change using blockchain technology to address the problems and/or expected societal changes related to the COVID-19 pandemic.
Date:

-

Location:

Virtual
Be the first to find out about the next hackathon.
Project Submission form:
Send us a link to your project, for consideration in our voting slate. No confidential submissions will be accepted and, depending on how many submissions we receive, we can't guarantee when or if we'll get to review each submission.
Block Producer form:Stake-based Voting & Rewards Proposal
Send us a link to your public feedback, and we'll consider voting for you.
Subscribe for EOSIO event updates
Subscribe for hackathon updates