View all News
How Greenback Aims to Bring Proof of Origin to Recycling with EOSIO
August 12, 2021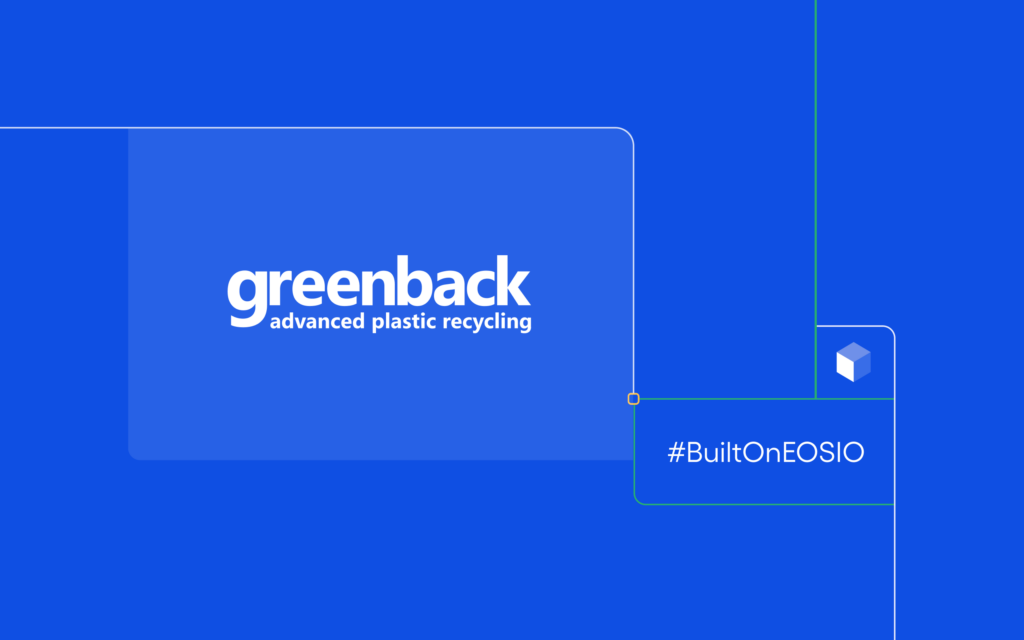 With climate change taking the center stage of daily life, we find ourselves searching for better methods to reduce plastic waste. Greenback, a plastic recycling and certification company, works with ARXUM to use EOSIO to provide greater visibility in the plastic recycling supply chain.
Around the world, government agencies are introducing measures to reduce plastic waste, such as requiring license fees for Consumer Packaged Goods companies ("CPGs") to offset the impact of packaging through extended producer responsibility schemes. The CPGs usually outsource this responsibility to compliance companies to assist with managing across their value chains.
In Europe, Greenback Founder and CEO Philippe Von Stauffenberg explains, multiple factors prevent these regulations from being truly effective. He says one of those factors is service provider fraud due to a lack of transparency. "CPGs think that their packaging is being collected, sorted and recycled, whereas some of their service providers are just exporting it overseas, thereby saving costs and keeping a higher proportion of license fees for themselves."
According to Philippe there are also technological barriers that prevent effective recycling of plastics through mechanical processes. "Multilayered plastic and plastic waste heavily contaminated with organic material is usually incinerated in developed countries. In the rest of the world it can find its way into landfills where loose plastic on the surface is picked up by the wind and carried into the ocean." The impact is felt in marine ecosystems around the world. It is calculated that every day approximately 8 million pieces of plastic end up in the ocean, collecting in forest, mountain, and desert ecosystems along the way.
A Technology Driven Approach to Sustainability
Greenback's goal is to help reduce CO2 and fossil oil depletion by recirculating waste plastics and aluminum into the industrial cycle, and elevating discarded packaging formerly considered waste to a valuable, harvestable commodity.
In the regions where Greenback seeks to make an impact, easily recyclable materials such as cans and PET bottles are collected and processed en masse at weighing centers. Greenback has developed a chemical recycling technology that turns the rest of the films and multilayer plastics with no value into an oil via a process known as pyrolysis or depolymerization. This provides collectors in the value chain with an additional income stream, and provides CPGs with recycled feedstock for new packaging.
Building a Better World on Blockchain Technology
Greenback's approach to sustainable distributed recycling management utilizes EOSIO to mitigate fraud and offer a verifiable means to trace the origins of plastic packaging and processed materials.
Greenback's plan is to outfit recycling centers that once simply weighed plastic with AI technology and sensor systems to determine the exact quality of plastic pickers bring, and provide instant payment, to be meritocratically distributed through each picker's associated EOSIO blockchain account.
Collectors get paid according to the quality of plastic waste they deliver. Wet plastics with organics and other materials fetch less than dryer, pre-sorted batches. Since the system manages payments through Smart Contracts based on the quality of the plastics, there is never any question as to whether or not a picker receives equitable compensation for their work.
EOSIO gives Greenback a means to keep a secure cryptographic record of all plastic collected at participating centers. Each batch of plastic delivered is digitally tracked by the blockchain system and whenever a kilogram of materials is collected, a smart contract creates a corresponding digital token. The tokens can be used to track and authenticate the processed plastic assets that are turned into new, clean, raw materials.
Companies can pre-purchase tokens to secure the ownership of oil resulting from plastic purchased with the proceeds. Once the raw materials are processed back into recycled plastics, companies may use the blockchain records to confirm they are using recycled materials. This makes it easier to adhere to regulations, and offers compliance officials a means to readily audit the supply chain of packing materials for verification purposes.
Meet the Founder
Philippe von Stauffenberg is a serial investor and entrepreneur. His experience in the investment world spans across well over two decades. In 2010 he bought Germany's largest recycling system, and has since invested in various technologies to create higher recycling rates. Philippe founded Greenback Recycling Technologies in 2018 with a mission to mend a broken recycling industry with the use of new technology solutions such as image recognition, AI, blockchain and chemical recycling.
Are You Building on EOSIO?
Our #BuiltOnEOSIO series showcases some of the amazing projects leveraging EOSIO technology to build a more secure and connected world. If you would like to suggest a project for us to feature please send an email to [email protected] for our Developer Relations team to review.
For more information on how Block.one supports the EOSIO ecosystem through strategic investments and venture capital partnership funds, visit b1.com.
– Block.one Developer Relations team
Important: All material is provided subject to this important notice and you must familiarize yourself with its terms. The notice contains important information, limitations and restrictions, relating to our software, publications, trademarks, third-party resources and forward-looking statements. By accessing any of our material, you accept and agree to the terms of the notice.
Sign up to receive all the latest news & insights from EOSIO
Project Submission form:
Send us a link to your project, for consideration in our voting slate. No confidential submissions will be accepted and, depending on how many submissions we receive, we can't guarantee when or if we'll get to review each submission.
Block Producer form:Stake-based Voting & Rewards Proposal
Send us a link to your public feedback, and we'll consider voting for you.
Subscribe for EOSIO event updates
Subscribe for hackathon updates